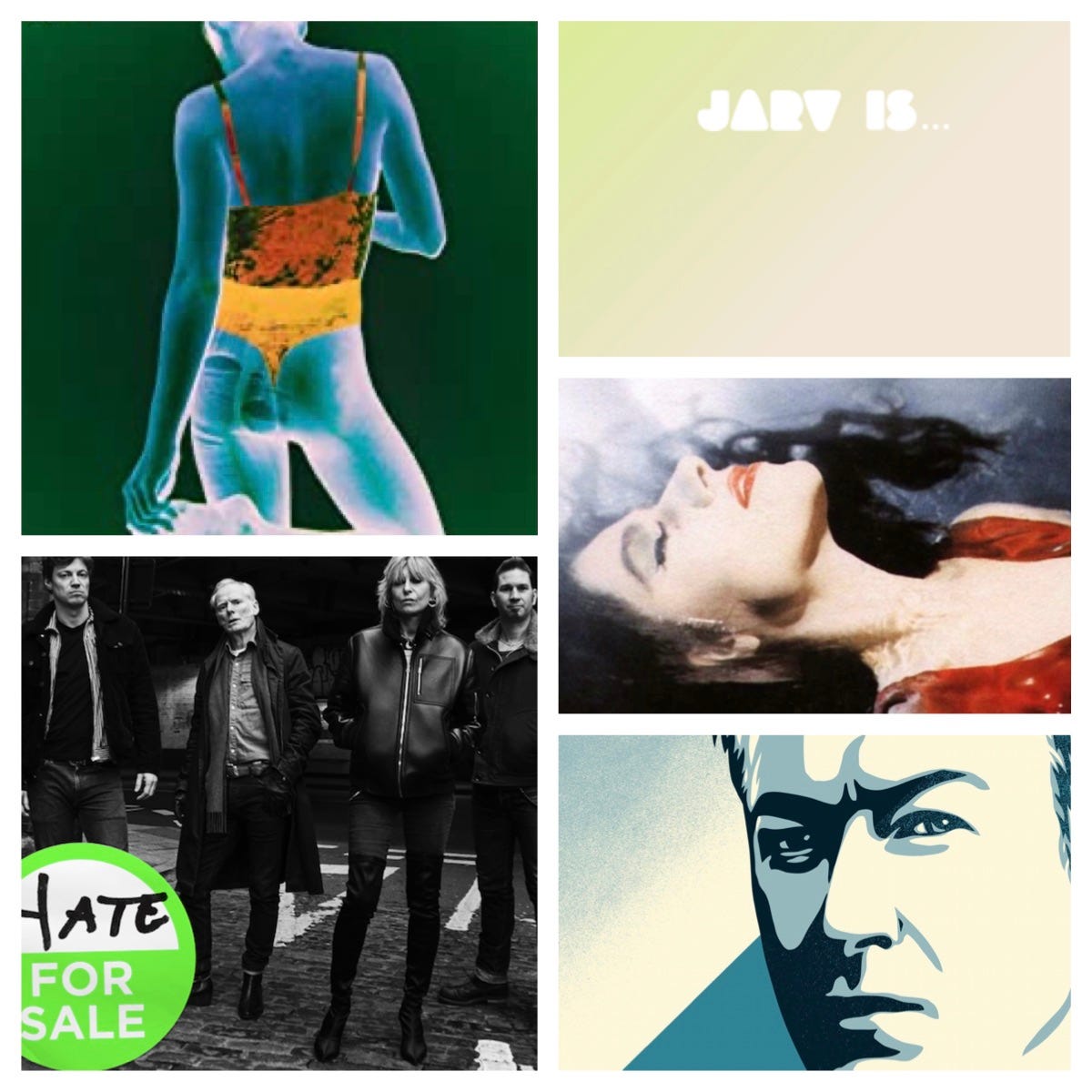 1Min Reviews
Brad Laner - Only Ghost In Town
Experimental artist Brad Laner, best known for his work with 90s noisy shoegaze act Medicine, continues his prolific solo streak …
The Jayhawks - XOXO
The Jayhawks are back with their eleventh studio album XOXO, and all the touchstones of a classic Jayhawks album are present …
---
New 90s Episode
PJ Harvey - To Bring You My Love
On her third album To Bring You My Love, PJ Harvey created a career-defining album that still resonates today
In 1995 PJ Harvey was relatively unknown in the US, aside from college radio and others tuned into the underground. Thanks to the breakout single "Down By The Water," for a brief moment she was in the same spotlight as Tori Amos, Bjork, Sarah McLachlan, Liz Phair, and other female artists who transcended the dominance of Seattle grunge and guitar rock. On To Bring You My Love, Harvey bounces between the minimalist blues of the title track and the krautrock drive of Working For The Man, and the blistering distortion of Meet Ze Monsta and pounding drive of Long Snake Moan. But in the age of Spotify skipping, can minimalism and restraint with bursts of nasty distortion still catch an ear?
---
New Releases
JARV IS - Beyond The Pale
Debut studio album by British rock band Jarv Is, led by former Pulp frontman Jarvis Cocker.
💿 Amazon | 🎧 Apple Music
Bush - The Kingdom
Eighth studio album by English rock band Bush. It was originally scheduled to be released in May 2020.
💿 Amazon | 🎧 Apple Music
The Pretenders - Hate For Sale
Eleventh studio album featuring the return of original drummer Martin Chambers
💿 Amazon | 🎧 Apple Music .
Gang of Four - Anti-Hero
Collection of songs was recorded just before Andy Gill died on February 1, 2020.
💿 Amazon | 🎧 Apple Music
Yo La Tengo - We Have Amnesia Sometimes
Five instrumental compositions recorded over a 10-day stretch from late April to early May.
💿 Amazon • Bandcamp | 🎧 Apple Music • Spotify
Chris Stamey & the Fellow Travelers - A Brand-New Shade of Blue
Co-founder of The dB's and Sneakers. Chris has worked with and/or produced Alex Chilton, Whiskeytown, Golden Palominos, Alejandro Escovedo, Yo La Tengo, and many more.
💿 Amazon | 🎧 Apple Music • Spotify
---
Coming Soon on Dig Me Out 90s
VOTE: 90s Album Review - July 2020
Let's do this. We've got 8 albums suggested by Dig Me Out listeners and need your help deciding which one would make the best episode.
The nominees are:
Gary Miron: Morphine - Cure for Pain | ✔️Vote
Ian Wobble: Sheep On Drugs - Greatest Hits | ✔️Vote
Lars: Various Artists - The Crow: City of Angels Soundtrack | ✔️Vote
Brian Collen: that dog. - Retreat From The Sun | ✔️Vote
Joshua Robles: Fugazi - End Hits | ✔️Vote
Richard Waterman: The Semantics - Powerbill | ✔️Vote
Darren Leeman: Face To Face - Ignorance Is Bliss | ✔️Vote
Wout Vlaeminck: Le Tigre - Le Tigre | ✔️Vote
---
Suggest a 90s album we should feature on the podcast.
We're always looking for lost and forgotten albums that deserve another listen. Tell the Dig Me Out listeners what they've missed.
🙋‍♂️ Suggest an Album
---
🎙 From the podcast archive
The Jayhawks - Sound of Lies
Written and recorded after the departure of co-founding lead singer and songwriter Mark Olsen, it rests on the shoulders of Gary Louris. Released: 1997 Label: American Recordings Producer: Brian Paulson
Bush - Sophomore Slump Revisited Roundtable - Razorblade Suitcase
Bush brought Steve Albini on board to produce their sophomore album Razorblade Suitcase, a slump or worth redeeming? Released: 1996 Label: Trauma Records, Interscope Records Producer: Steve Albini
---
Enjoy our FREE 496 episode archive
The story of 90s rock one week at a time since 2011. Weekly episodes featuring 90s album reviews, interviews, and roundtable discussions. Made possible by the DMO Union.
---
🗄 Help keep our archive free and online
Dig Me Out is a community. We're a group unified by our love of rock music in all its forms with a soft spot for the obscure. Consider joining us and keeping it going and growing.
DMO Union at Patreon
Union members get exclusive access to our Discord to discuss and share music (It's a nice alternative from social media). They also help pick the artists, albums, and topics featured. Patreon tiers start at just 2 bucks a month (that's less than a beer).
BOX Premium Newsletter
You get all our 80s, and bonus podcast content plus the 1 min album reviews. We'll make it easy to stay in the loop on which new releases are Worthy Albums, Better EPs, or Decent Singles.