⌚️ 1Min Reviews
Shiner - From Schadenfreude
Call them math rock, post-hardcore, space rock, indie rock, or whatever you like, Kansas City's Shiner are back with From Schadenfreude …
Brendan Benson - Dear Life
Brendan Benson's seventh solo release Dear Life finds the musician stretching from his compact power-pop past, incorporating a wide variety of unexpected sounds …
---
🎙 New 90s Episode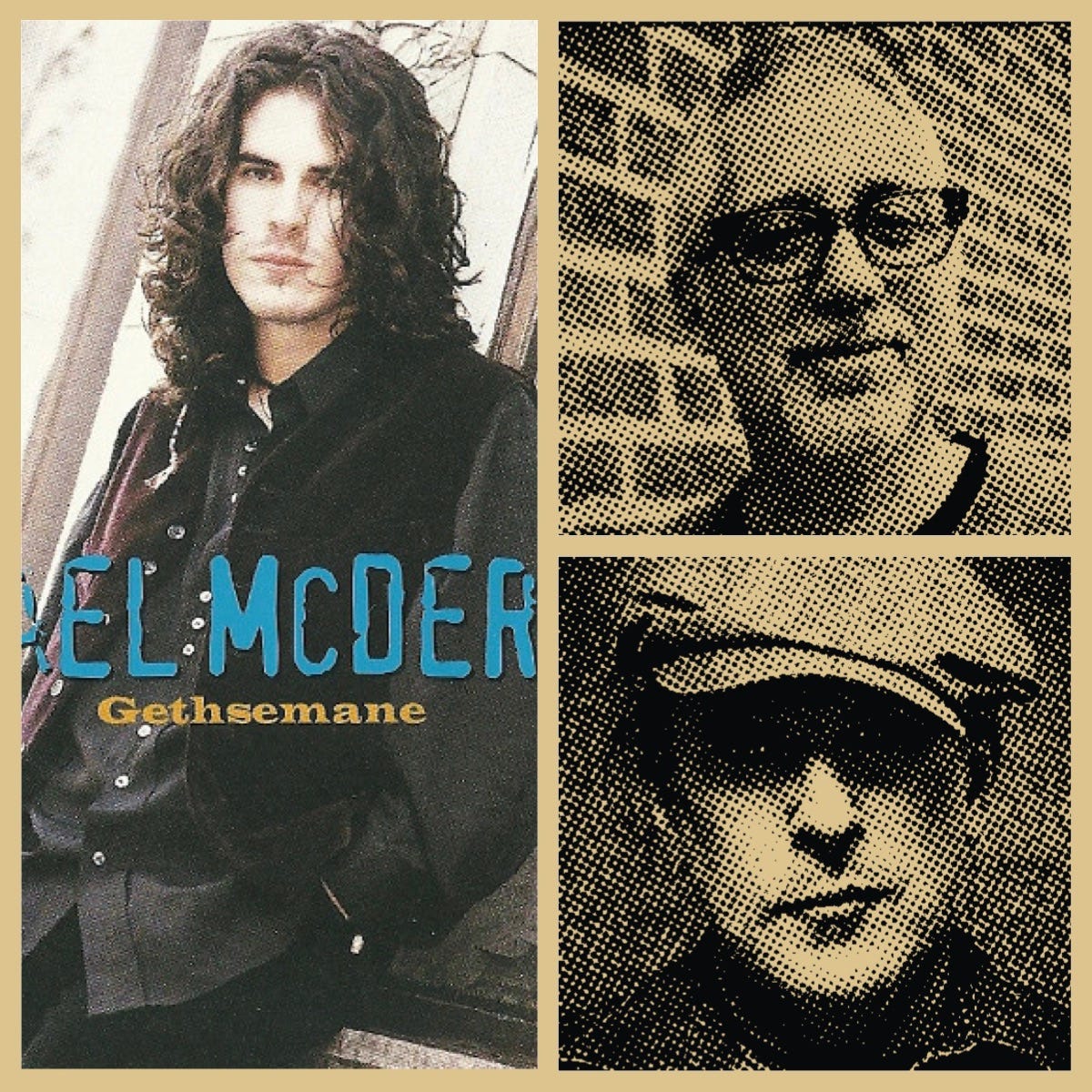 Michael McDermott - Gethsemane
Michael McDermott and Brian Koppelman stop by to share their experiences working together as artist and A&R rep on the 1993 album Gethsemane
While we have chatted with many artists over the years, rarely have we been able to get the record label perspective on the various ups and downs of the 90s. For this episode, we're lucky to get singer/songwriter Michael McDermott, who has been making records for thirty years, and the A&R rep who helped kick off that career, Brian Koppelman. While Brian is better known for his screenwriting (Rounders, Ocean's 13) and showrunner (Billions), his life in the music industry dates back to high school with A&R stints at Elektra Records, Giant Records, SBK Records, and EMI Records. We dig into the album Michael and Brian worked on together, 1993's Gethsemane, and the various trials and tribulations of releasing a singer/songwriter album in the heyday of Nirvana, Pearl Jam, Soundgarden and Alice In Chains, the producer and songwriter relationship in the studio, why being too sympathetic to the artist can be negative, and much much more.
---
📅 New Music Out Now
Phantom Planet - Devastator
First album since the band reformed last spring.
💿 Amazon | 🎧 Apple Music • Spotify
Mark Lanegan - Straight Songs of Sorrow
The latest solo release for the former Screaming Trees lead singer features contributions from such artists as Greg Dulli, the Bad Seeds' Warren Ellis, Ed Harcourt, Led Zeppelin's John Paul Jones, Lamb of God's Mark Morton, and Portishead's Adrian Utley.
💿 Amazon | 🎧 Apple Music
Shiner - From Schadenfreude
Shiner Return With Their First New Album In 19 Years
💿 Bandcamp | 🎧 Apple Music • Spotify
Mark Lanegan - Sing Backwards and Weep: A Memoir
A gritty, gripping memoir by the singer Mark Lanegan (Screaming Trees, Queens of the Stone Age, Soulsavers), chronicling his years as a singer and drug addict in Seattle in the '80s and '90s
📖 Amazon
Moviola - Scrape and Cuss
First album in 13 years from Columbus, Ohio indie rock vets
🎧 Spotify
Butch Walker - American Love Story
The Georgia native's newest project is a concept record that tackles racism, homophobia and stepping out of your comfort zone.
💿 Amazon | 🎧 Apple Music
Killswitch Engage - Atonement II B-Sides for Charity - EP
Digital EP of previously unreleased tracks benefits COVID-19 relief efforts
💿 Amazon | 🎧 Apple Music
Matt Bellamy - Tomorrow's World - Single
Bellamy said that "this song captures my mood and feelings whilst in lockdown".
💿 Amazon | 🎧 Apple Music
Superchunk - Clambakes Vol. 10: Only in My Dreams - Live in Tokyo 2009
The tenth installment of their long-running Clambakes live album series. All proceeds go to the NC Community Bail Fund of Durham and Durham FEAST.
💿 Amazon | 🎧 Apple Music
Tori Amos - Resistance: A Songwriter's Story of Hope, Change, and Courage
A timely and passionate call to action for engaging with our current political moment, from the Grammy-nominated and multiplatinum singer-songwriter and New York Times bestselling author Tori Amos.
📖 Amazon
Tanya Donelly - Here Comes Your Man
Part of a series of covers recorded while in isolation.
💿 Bandcamp
Dramarama - Color TV
The follow-up to 2005's Everybody Dies. A collection of tracks written over a 20-year period.
💿 Amazon | 🎧 Apple Music
Mike Tramp - Second Time Around
New album from the ex-White Lion frontman
💿 Amazon | 🎧 Apple Music
Billy Bragg - Can't Be There Today - Single
A new song written in the past few days that touches on the emotional cost of this crisis.
💿 Amazon | 🎧 Apple Music
Mogwai - ZEROZEROZERO
Mogwai release this new soundtrack, ZeroZeroZero, available for one week exclusively on a pay-what-you-can basis with half of the proceeds going to Help Musicians and NHS charities.
💿 Bandcamp | 🎧 Apple Music
Oasis - Don't Stop...(Demo) - Single
Noel Gallagher has released a previously-unheard Oasis song, after discovering it on an old CD.
💿 Amazon | 🎧 Apple Music
---
🎙 Coming Soon on Dig Me Out
May Roundtable - Muse Origins
Our April roundtable poll made it clear - while "Origins" lost by only 4% to "Festivals," the vast majority of commenters wanted a Muse episode, so by golly that's what we're doing. Who knew that the band that drew unflattering comparisons to Radiohead and Jeff Buckley would become a global phenomenon?
We're looking for a few Muse-minded folks to join us for this episode, which will record on Sunday May 17th at 9pm EST. If you're interested, let us know!
80s Episode - Vote Now for May!
We wanted to stay thanks to our patrons for sticking with us, as well as show our appreciation for all the new folks joining recently, so we've decided to do a bonus 80s episode for May! Cast your votes for our next 80s episode by midnight EST on Tuesday, May 12th.
New Order - Low-life

Talking Heads - Remain In Light

Queen - The Game

Poster Children - Flower Power
---
Know a 90s album that deserves another listen?
🙋‍♂️ Suggest an Album
---
🎙 From the podcast archive
Shiner - Lula Divina
Lots of tags are applied to Shiner - progressive, emo, alternative, math rock, space rock - but all that really matters is the songs. Released: 1997 Label: DeSoto Records Producer: Shiner
Dramarama - Hi-Fi Sci-Fi
On 1993's Hi-Fi Sci-Fi, Dramarama became more refined, but did it smooth out the interesting edges? Released: 1993 Label: Elektra Producer: Chris Carter, John Easdale
Tanya Donelly - Lovesongs for Underdogs
With her first solo outing, Tanya Donelly attempts to balance her indie-rock past with a radio-friendly approach. Released: 1997 Label: 4AD Producer: Gary Smith, Tanya Donelly, Wally Gagel
---
Dig our FREE 486 episode archive
The story of 90s rock one week at a time since 2011. Weekly episodes featuring 90s album reviews, interviews, and roundtable discussions. Made possible by the DMO Union.
---
👋 Hi, did you enjoy this?
Dig Me Out is listener and reader-supported. Consider helping Tim and J keep it growing and ad-free.
BOX Premium Newsletter
You get all our 80s, and bonus podcast content plus the 1 min album reviews. We'll make it easy to stay in the loop on which new releases are Worthy Albums, Better EPs, or Decent Singles.
DMO Union
If you want to get more involved; help us pick the artists, albums, and topics featured. Patreon tiers start at just 2 bucks a month (that's less than a beer).