⌚️ 1Min Reviews
Brant Bjork - Brant Bjork
A master of the desert rock sound who recorded stints in Kyuss, Fu Manchu, and Mondo Generator, Bjork plays all the instruments on this low-key affair …
Moviola - Scrape and Cuss
While they started out as a noisier, lo-fi entry into the 1990s No Depression alternative country scene, as the band has matured, so has the music. …
---
🎙 New 90s Episode
Seaweed - Spanaway
Ten years after disagreeing over Seaweed's 1993 album Four, we give the 1995 major label follow-up Spanaway a chance to mend the fracture
If you've listened to this podcast long enough, you know that we are not always in agreement about what works and doesn't work for us on various albums. One of the earliest disagreements was back in Season One when we checked out the 1993 album Four by Seaweed. Thanks to a recent listener suggested a poll on our DMO UNION on Patreon, we're back ten years later to check out the 1995 follow-up Spanaway, the band's only release on the Hollywood Records label. While the band faced the tired "sell-out" label for signing to a major, in reality, the band stayed close to what they did well - a bombastic combo of East Coast post-hardcore and PacWest grunge, with some extra nuance thanks to the skilled fingers of Andy Wallace behind the mixing board, as well as guest visits in the drum throne by Barrett Martin (of Screaming Trees) and Matt Cameron (of Soundgarden). The question remains - has anything changed in our diverging opinions?
---
📅 New Music Out Now
Even - Return To Stardust EP
The final track from EVEN's seventh studio album, Satin Returns, released on 12" vinyl, along with three other tracks not previously available on vinyl.
💿 Bandcamp
Moby - All Visible Objects
All of Moby's profits from all visible objects will be donated to charity.
💿 Amazon | 🎧 Apple Music
The Vapors - Together
First studio work since Magnets back in 1981
💿 Amazon | 🎧 Apple Music
Magnetic Fields - Quickies
Box set is five 7" EPs comprising twenty-eight new short songs by Stephin Merritt
💿 Amazon • Bandcamp | 🎧 Apple Music
The Tea Party - Isolation - Single
A timely remotely-produced cover of Joy Division's "Isolation".
💿 Amazon | 🎧 Apple Music
Pete Yorn - Pete Yorn Live At The Troubadour
West Hollywood, CA, 3/13/19, This "You & Me" solo acoustic show is the culmination of 5 years of solo touring for Pete Yorn
💿 Bandcamp
Martin Popoff - Anthem: Rush in the 1970s (Rush Across the Decades Book 1)
The definitive biography of the rock 'n' roll kings of the North
💿 Amazon
Junkyard - Rome is Burning
EP is a collection of "High Water" era rarities, B-sides, and acoustic tracks!
L.A. Guns - Let You Down - Single
Recorded during quarantine in Denmark, Las Vegas, and LA.
💿 Amazon | 🎧 Apple Music
---
🎙 Coming Soon on Dig Me Out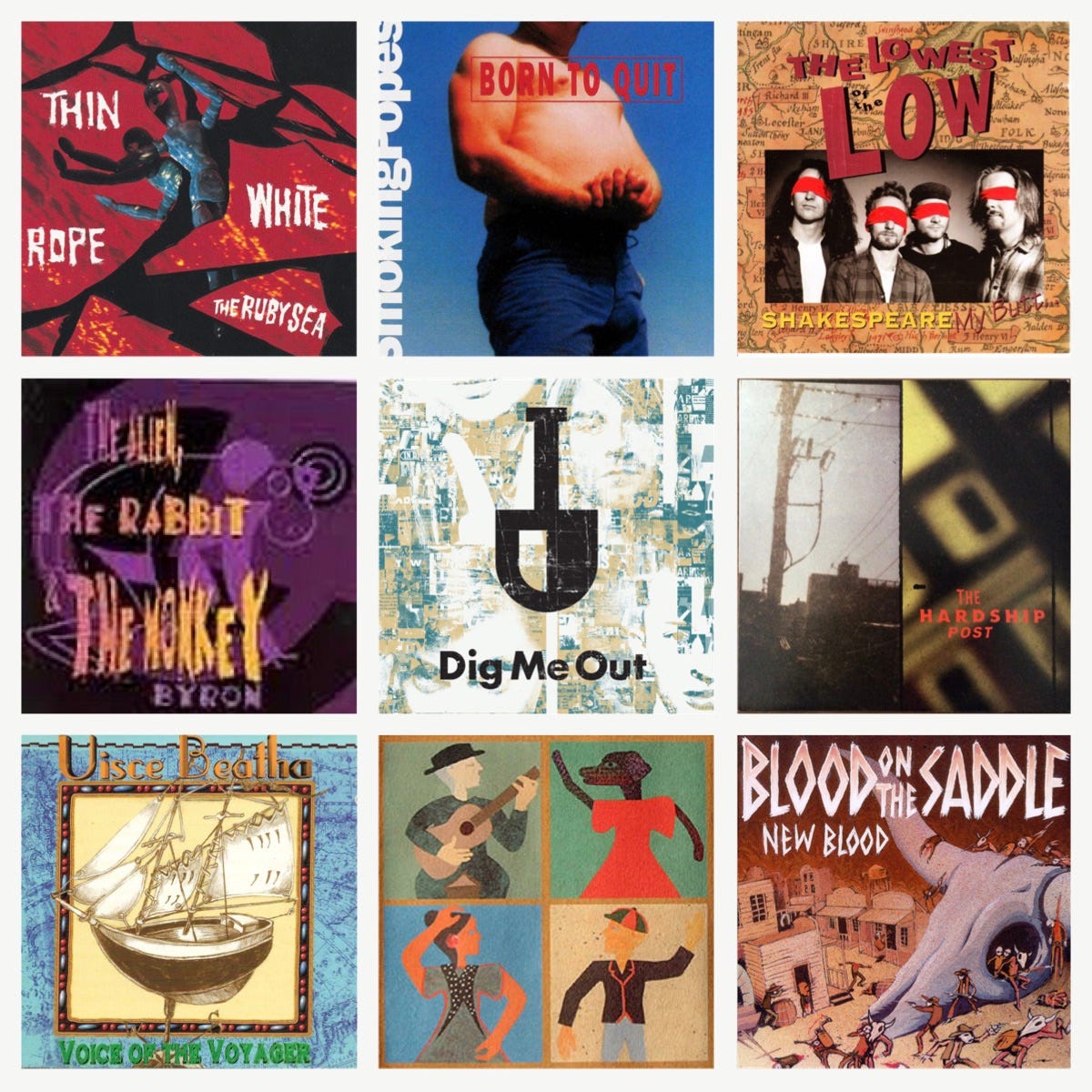 We've got 8 albums suggested by Dig Me Out listeners and need your help deciding which one would make the best episode.
Eric Peterson: Thin White Rope - The Ruby Sea
Andrew OC: Smoking popes - Born to quit
Tom Hicks: The Lowest of the Low - Shakespeare My Butt
Lee Rosevere: Byron - The Alien, The Rabbit and the Monkey
Alex Loring: Hardship Post - Somebody Spoke
Wayne Boesch: Uisce Beatha - Voice Of The Voyager
Edward Learman: Gorky's Zygotic Mynci - Spanish Dance Troupe
Gary Miron: Blood on the Saddle - New Blood
While I love the Smoking Popes, The Hardship Post need to get some attention. Great Canadian band with excellent catchy songs. They likely won't win, but please give them a listen. - David Haverland

this was down to the Smoking Popes, Hardship Post, and Gorky's Zygotic Mynci. In the end I went with Gorky because, sonically, the album just grabbed my attention. It may slow down just a bit in the middle but at 15 songs in under 40 minutes, there is plenty to enjoy. Plus, the albums title track was covered by Of Montreal and has a bit of nostalgia for me. I would like to see Hardship Post covered in another episode though. - Thomas Crymes

Since I live in wales I should vote for Gorky's zygotic Mynci but I'm going for the Hardship post... I had never heard of them before so its was another pleasant surprise brought to me by dig me out!!! thanks to dig me out I have discovered more Canadian bands that I really like now. - Richard Waterman

Saw the Smoking Popes finally when they opened for Descendents last year. It's really the only band I recognize on this list. Guess I'm getting old. - Jeremy Amend
---
Know a 90s album that deserves another listen?
🙋‍♂️ Suggest an Album
---
🎙 From the podcast archive
Seaweed - Four
In the twentieth episode of the Dig Me Out Podcast, Tim and Jason review the 1993 album Four by Seaweed Released: 1993 Label: Sub Pop Producer: Seaweed
Brant Bjork - Jalamanta
The debut solo album by founding Kyuss member and former Fu Manchu drummer Brant Bjork. Released: 1999 Label: Duna Producer: Rosa
Even - Less Is More
On Less Is More, Melbourne trio Even competently integrate 90s alternative and grunge sounds with power pop and British invasion melodies Released: 1996 Label: Rubber Records Producer: Greg Wales
The Tea Party - Transmission
Though only a three-piece, The Tea Party pile on a wide range of non-traditional instrumentation to create a unique, swirling sound Released: 1997 Label: EMI Music Canada Producer: Jeff Martin
---
Dig our FREE 487 episode archive
The story of 90s rock one week at a time since 2011. Weekly episodes featuring 90s album reviews, interviews, and roundtable discussions. Made possible by the DMO Union.
---
🤩 Did you like this?
Dig Me Out is listener and reader-supported. Consider helping Tim and J keep it growing and ad-free.
BOX Premium Newsletter
You get all our 80s, and bonus podcast content plus the 1 min album reviews. We'll make it easy to stay in the loop on which new releases are Worthy Albums, Better EPs, or Decent Singles.
DMO Union
If you want to get more involved; help us pick the artists, albums, and topics featured. Patreon tiers start at just 2 bucks a month (that's less than a beer).